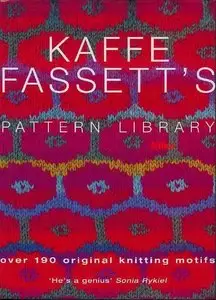 Kaffe Fassett's Pattern Library By Kaffe Fassett
Publisher: Ebury Press 2003 | 160 Pages | ISBN: 0091889170 | PDF | 46 MB
Kaffe Fassett has been producing some of the world's most exquisite knitting designs for over 30 years. He has worked with everyone from Missoni to Bill Gibb, designing diverse and beautiful knitwear that is worn all over the world. Now Kaffe Fassett's Pattern Library provides in one volume a collection of over 190 of his most inspiring pieces. Each design is illustrated with a close-up photographic swatch, accompanied by a detailed colour chart so you can copy the pattern. A general chapter on creating your own designs, covering issues such as scale, repeats and borders, enables you to share in Kaffe's creative process and benefit from his unique tips in designing your own pieces. For Kaffe Fassett fans and anyone who loves the art of knitting, this book will be an absolute must-have.
NO PASSWORD



!!!No Mirrors below, please! Follow Rules!