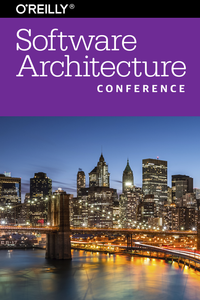 O'Reilly Software Architecture Conference 2016
HDRips | MP4/AVC, ~5174 kb/s | 1920x1080 | Duration: 47 Hours | English: AAC, 125 kb/s (1 ch) | 91.3 GB
Genre: Development / Programming / Architecture / Business
The long-term success and evolution of many companies balances on the effectiveness and versatility of their software architecture and the teams that design, implement, and deploy it. To continue to find success and evolution within your own role you must at some point become as skilled in the breadth of what software architecture solutions can include as you are in the depths of programming knowledge that you already have. The more involved you are with software architecture—and even if you don't carry the title of architect you can bet you are involved—the more technical breadth becomes critical. You must understand tradeoffs, technology options, and engineering best practices, plus have the leadership chops to execute your vision.
Most software development conferences focus on increasing your depth by providing in-depth technical sessions. The O'Reilly Software Architecture Conference does that, as appropriate to keep pace with new technology, AND focuses on technical breadth like no other event. Smart and innovative speakers will share new techniques and approaches, proven best practices, and exceptional technical skills around:
Microservices
Distributed systems
Integration architecture
Devops
Scale
Reactive and its variants
Business skills
Security
Optimization
UX design
Welcome to the best eLearning video (English, German, French, Spanish language) and many more:
LINK
Do not forget to check my blog! Updated regularly! Add in bookmarks my blog :)
PM me if Links not working!
No mirrors pls!