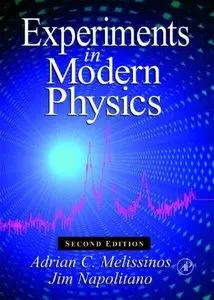 Adrian C. Melissinos, "Experiments in Modern Physics, 2nd edition"
English | ISBN: 0124898513 | 2003 | 640 pages | PDF (Scan) | 42 MB
This is a revision of the leading text on experimental physics. The feature of this book that has made it one of the most loved texts on the subject is that it goes far beyond a mere description of key experiments in physics. The author successfully provides the reader with an understanding and appreciation of the 'physics' behind the experiments. The second edition will be an extensive revision introducing many new devices, including the use of computers and software programs, that have come into use since the publication of the first edition. In addition, the important areas of condensed matter physics and optical physics will be added, including two entirely new chapters on lasers and optics. It features: modern analysis and acquisition techniques; and integration with matlab for data analysis and display. New experiments include fundamentals of lasers.