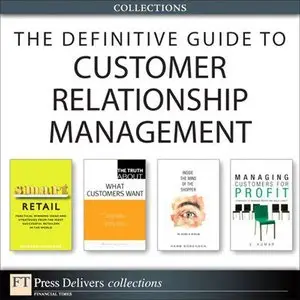 The Definitive Guide to Customer Relationship Management (Collection) by V. Kumar, Richard Hammond, Herb Sorensen, Michael R. Solomon
English | 2012 | ISBN: 0133346099 | ASIN: B00968FPDE | 1039 pages | EPUB | 5,3 MB
A brand new collection of powerful insights into building outstanding customer relationships… 4 pioneering books, now in a convenient e-format, at a great price!
4 remarkable eBooks help you develop rock-solid, high-value long-term customer relationships: levels of loyalty you thought were impossible
Today, rock-solid long-term customer relationships are the holy grail of every business – and they seem just as elusive. But such relationships are possible: great businesses are proving it every day, and reaping the rewards. In this extraordinary 4 eBook set, you'll learn how they do it – and how you can, too, no matter what you sell or who your customers are. First, in Managing Customers for Profit: Strategies to Increase Profits and Build Loyalty, internationally respected marketing expert V. Kumar presents a complete framework for linking your investments to business value - and maximizing the lifetime value of every customer. Learn how to use Customer Lifetime Value (CLV) to target customers with higher profit potential…manage and reward existing customers based on their profitability…and invest in high-profit customers to prevent attrition and ensure future profitability. Kumar introduces customer-centric approaches to allocating marketing resources…pitching the right products to the right customers at the right time…determining when a customer is likely to leave, and whether to intervene…managing multichannel shopping… even calculating referral value. Next, in Smart Retail: Practical Winning Ideas and Strategies from the Most Successful Retailers in the World, Richard Hammond presents remarkable new case studies, ideas, strategies, and tactics from great retailers worldwide. Discover new ways to use data to drive profit and growth… do more with less… leverage technology to develop highly productive and innovative remote teams… create your ultimate retail experience! In Inside the Mind of the Shopper: The Science of Retailing, the legendary Herb Sorensen reveals what customers really do when they shop, ripping away myths and mistakes that lead retailers to miss huge opportunities. Sorensen identifies simple interventions that can have dramatic sales effects, shows why many common strategies don't work, and offers specific solutions for serving quick-trip shoppers, optimizing in-store migration patterns, improving manufacturer-retailer collaboration, even retailing to multicultural communities. Finally, in The Truth About What Customers Want, Michael R. Solomon demystifies today's consumers, revealing what they want, think, and feel. Then, based on his deep truths about consumer behavior, he presents 50 bite-size, easy-to-use techniques for finding and keeping highly profitable customers!
From world-renowned experts in customer behavior and retail performance V. Kumar, Richard Hammond, Herb Sorensen, and Michael R. Solomon
My nickname -
interes