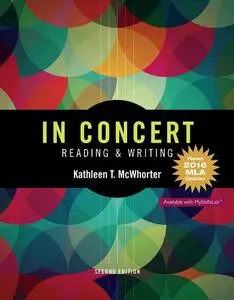 In Concert: An Integrated Approach to Reading and Writing, 2nd Edition by Kathleen T. McWhorter
2015 | ISBN: 0133956539 | English | 624 pages | PDF | 135 MB
For combined courses in Developmental Reading and Writing.
A true integration of reading and writing skills instruction
In Concert, Second Edition is the second text in a two-part integrated reading and writing series. While the first volume (In Harmony) focuses on reading and writing skills at the sentence to paragraph level, In Concert moves on to explore reading and writing skills at the paragraph and essay level. This series aims to show students how reading and writing unite to become a single process of understanding and expressing ideas.
Emphasizing the harmonious nature of the reading and writing processes, it highlights critical thinking and reinforces its relationship to these processes. Student and professional essays are presented at the start of each chapter and used as the basis for instruction, illustration, and practice. Readings are presented as integrated instructional material, rather than as models or additional practice, allowing students to improve on their own reading and writing skills through a single source. Thematic-based chapters help build continuity, elicit student interest, and help them draw on their own prior knowledge. McWhorter's streamlined presentation and flexible approach work in traditional as well as compressed courses.