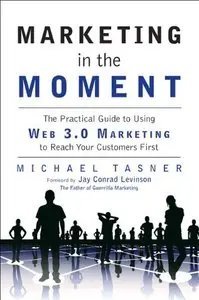 Marketing in the Moment: The Practical Guide to Using Web 3.0 Marketing to Reach Your Customers First by Michael Tasner
English | 2010 | 256 Pages | ISBN: 013708109X | PDF | 3,2 MB
This is the complete, practical, no-fluff desk reference to next generation online and mobile marketing. Drawing on his extensive experience helping companies of all sizes successfully utilize the web, mobile marketing, and social media, Michael Tasner helps marketers, entrepreneurs and managers move beyond hype and high-level strategy to proven tactics and successful ground-level execution. Tasner distills all of today's new options into the key trends that offer the greatest opportunities for today's marketers. Coverage includes: Identifying the new marketing technologies that are most likely to drive value — and avoiding those that won't. Capitalizing on today's fastest-growing online marketing trend.
Utilizing "Web 3.0" approaches to increase leads, traffic, and sales, reach new markets, and grow share in existing markets. Prioritizing your online marketing initiatives for maximum impact. Collaborating virtually with your entire marketing team to accomplish more at lower cost. Creating focused action plans for the next three, six, and twelve months.
About the Author
Michael Tasner has been called by many as one of the top online marketing experts in the world. He runs a large online marketing and design firm that works with the most high-profile speakers, authors, consultants, and entrepreneurs in the world. These businesses hire and trust him to run their entire online marketing campaigns from A to Z. He has also consulted with numerous Fortune 1000 companies, teaching them how to implement the latest and greatest Web efforts in their marketing.
The best part: He plays both sides of the fence. Not only does he run Taz Solutions, Inc., but he trains others how to market on their own. His experience is backed by more than ten years of in-the-trenches work. During those ten years, he has started and sold four successful Web firms based on the traffic they were generating.
Michael lives in Niagara Falls, NY with his wife, Anna, and twin boys, Connor and Logan.
My nickname -
interes