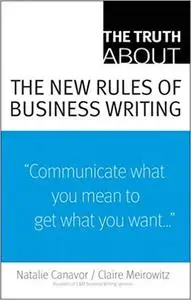 Natalie Canavor, "Truth About the New Rules of Business Writing, The"
English | ISBN: 0137153155 | 2009 | 208 pages | MOBI | 406 KB
Give yourself a powerful competitive advantage by becoming a better business writer. Better writers get better jobs and more promotions; they persuade people through emails, Web sites, presentations, proposals, resumes, grant proposals, you name it. Businesses know this: that's why they spend $3 billion a year helping their employees become more effective writers. The Truth About the New Rules of Business Writing shows you how to master the art of effective business communication replacing the old standards of jargon, pomposity, and grammar drills with a simple, quick and conversational writing style. Authors Natalie Canavor and Claire Meirowitz demonstrate how to plan and organize your content; make your point faster; tell your readers what's in it for them; construct winning documents of every kind, print and electronic, even blog entries and text messages! brings together the field's best knowledge, and shows exactly how to put it to work. With an "aha" on every page, it presents information in a clear, accessible style that's easy to understand and use. Written in short chapters, it covers the entire field, cuts to the heart of every topic, pulls back the curtain on expert secrets, and pops the bubble of commonly-held assumptions. Simply put, this book delivers easy, painless writing techniques that work.
Read more