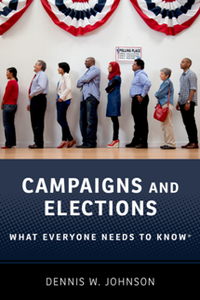 Campaigns and Elections : What Everyone Needs to Know®
by Dennis W. Johnson
English | 2020 | ISBN: 019093557X | 225 Pages | PDF | 6.65 MB
Frequent and fair elections, open to all, are fundamental elements of a democracy. The United States, through its local, state, and national contests, holds more elections, more often, than any other democracy in the world. But in recent years, there have been troubling signs that our system of campaigns and elections has become much more fragile than we had previously thought. More specifically, in the past twenty years, campaigns have changed profoundly: social media and viral messaging compete with traditional media, races once considered local in nature have become nationalized, Supreme Court decisions on campaign finance law now encourage mega-donors, voters are more polarized, party affiliation has waned, and the middle ideological ground has given way to extremist language and voter rage. Twice in sixteen years we have seen winning presidential candidates gaining fewer popular votes than their opponents. The fundamental right of every citizen to vote has been impeded by state legislatures demanding tighter access, more identification, and accusations of voter fraud. And we have faced the real threat of foreign influence in our national elections.
This book offers the most up-to-date examination of campaigns and elections, including the challenges and opportunities they present. It addresses fundamental questions about who votes in American elections, how legislative districts are reapportioned and why it matters, the realities of voter fraud, the pros and cons of reforming the Electoral College, the impact of dark money on campaigns, and the role of political consultants and specialists, among other topics. Given the fragility of our election process, what are the threats to a healthy American democracy? Do the candidates with the most money always win? This is not simply a book on how campaigns are run, but why campaigns and elections are integral components of American democracy and how those fundamental elements may be vulnerable to misuse.
If you want to support my blog, then you can buy a premium account through any of my files (i.e. on the download page of my book). In this case, I get a percent of sale and can continue to delight you with new books!