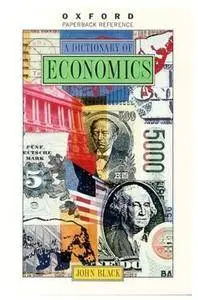 A Dictionary of Economics (Oxford Quick Reference) by John Black
1997 | ISBN: 0192800183 | English | 528 pages | Scan PDF | 34 MB
A Dictionary of Economics is the most comprehensive, authoritative, and up-to-date reference on economics available. Here, well-known and highly respected author John Black provides clear and jargon-free definitions for over 4,000 entries, including the most recent terms and concepts in economics as well as providing international coverage of economic organizations and institutions.
This handy volume covers all aspects of economic theory, from microeconomics to public finance and international trade. Succinct explanations are given for mathematical and statistical terms widely used in economics, as well as words from related areas such as business and finance. Anyone wanting a quick and complete guide to the sometimes confusing and convoluted terms associated with economics will find A Dictionary of Economics an indispensable source of reference in the classroom, home, or office.