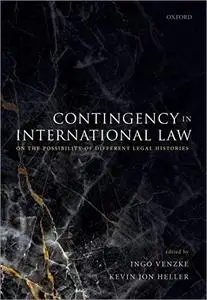 Contingency in International Law: On the Possibility of Different Legal Histories edited by Ingo Venzke, Kevin Jon Heller
English | June 17, 2021 | ISBN: 0192898035 | EPUB/PDF | 576 pages | 2/18.4 MB
This book poses a question that is deceptive in its simplicity: could international law have been otherwise? Today, there is hardly a serious account left that would consider the path of international law to be necessary, and that would refute the possibility of a different law altogether. But behind every possibility of the past stands a reason why the law developed as it did. Only with a keen sense of why things turned out the way they did is it possible to argue about how the law could plausibly have turned out differently.
The search for contingency in international law is often motivated, as it is in this volume, by a refusal to resign to the present state of affairs. By recovering past possibilities, this volume aims to inform projects of transformative legal change for the future. The book situates that search for contingency theoretically and carries it into practice across many fields, with chapters discussing human rights and armed conflict, migrants and refugees, the sea and natural resources, foreign investments and trade. In doing so, it shows how politically charged questions about contingency have always been.