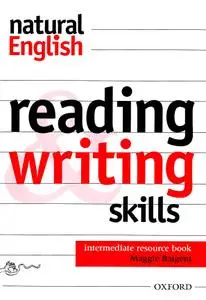 Natural English: Reading and Writing Skills Resource Book Intermediate level by Maggie Baigent, Ruth Gairns, Stuart Redman
English | 2005 | ISBN: 0194383873 | 64 pages | scanned PDF | 12,1 MB
This title presents a modern, speaking-centred general English course that helps students use language naturally.
The 14 reading lessons are based around accessible, authentically-sourced texts from newspapers and websites to leaflets and fiction. You'll find familiar reading skills such as predicting and reading for specific information along with more challenging ones such as inferring.
The 14 writing lessons focus on common exam- and work-related text types as well as the general skills needed for writing
at this level. Each lesson includes analysis of writing samples, work on the processes of writing such as planning and organizing information, and generating ideas for a final writing task.
The detailed teacher's notes use a simple grid with guidance notes on text types, advice on particular reading and writing skills, and ideas for further exploitation.
My nickname -
interes