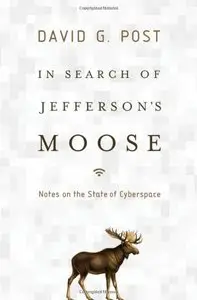 In Search of Jefferson's Moose: Notes on the State of Cyberspace (Law and Current Events Masters) By David G. Post
Publisher: O U P 2009 | 264 Pages | ISBN: 0195342895 | PDF | 2 MB
In 1787, Thomas Jefferson, then the American Minister to France, had the skeleton of an American moose shipped to him in Paris and mounted it in the lobby of his residence as a symbol of the vast possibilities of the largely unexplored New World. Taking a cue from Jefferson's efforts, David Post, one of the nation's leading internet scholars, presents a pithy, colorful exploration of the still mostly undiscovered territory of cyberspace--what it is, how it works, and how it should be governed.
!!!No Mirrors below, please! Follow Rules!