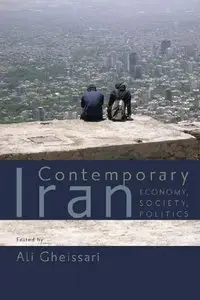 Ali Gheissari "Contemporary Iran: Economy, Society, Politics"
Oxford University Press | English | 2009-04-02 | ISBN: 0195378482 | 400 pages | PDF | 1,5 MB
Iran is a key player in some of the most crucial issues of our time. But because of its relative diplomatic isolation and the partisan nature of conflicting accounts voiced by different interest groups both inside and outside the country, there is a shortage of hard information about the scale and depth of social change in today's Iran. In this volume, and imposing roster of both internationally renowned Iranian scholars and rising young Iranian academics offer contributions–many based on recent fieldwork–on the nature and evolution of Iran's economy, significant aspects of Iran's changing society, and the dynamics of its domestic and international politics since the 1979 revolution, focusing particularly on the post-Khomeini period. The book will be of great interest not only to Iran specialists, but also to scholars of comparative politics, democratization, social change, politics in the Muslim world, and Middle Eastern studies.
To start download click HERE: