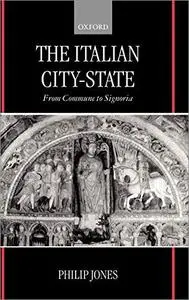 The Italian City-State: From Commune to Signoria by Philip Jones
English | July 17, 1997 | ISBN: 0198225857 | PDF | 712pages | 43.6 MB
This book studies the history, unique in Europe, of the Renaissance and renascences in medieval Italy: the extraordinary revival, in a profoundly altered economic and social environment, of antique urbanity–the civilization and culture of city states. The paradox arose from a peculiar situation, a "double existence" part ancient, part medieval, that made Italy a singular combination of both social and cultural renaissance, and economic, capitalist revolution.
In this fascinating and groundbreaking study, Philip Jones traces in detail the tension and interaction between the two traditions to their culmination in two rival regimes of communes and despots.