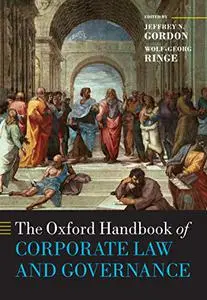 Jeffrey N. Gordon, Wolf-Georg Ringe, "The Oxford Handbook of Corporate Law and Governance"
English | 2018 | ISBN: 0198743688, 0198743696 | PDF | pages: 1491 | 6.2 mb
Corporate law and corporate governance have been at the forefront of regulatory activities across the world for several decades now, and are subject to increasing public attention following the Global Financial Crisis of 2008. The Oxford Handbook of Corporate Law and Governance provides the global framework necessary to understand the aims and methods of legal research in this field.
Written by leading scholars from around the world, the Handbook contains a rich variety of chapters that provide a comparative and functional overview of corporate governance. It opens with the central theoretical approaches and methodologies in corporate law scholarship in Part I, before examining core substantive topics in corporate law, including shareholder rights, takeovers and restructuring, and minority rights in Part II. Part III focuses on new challenges in the field, including conflicts between Western and Asian corporate governance environments, the rise of foreign ownership, and emerging markets. Enforcement issues are covered in Part IV, and Part V takes a broader approach, examining those areas of law and finances that are interwoven with corporate governance, including insolvency, taxation, and securities law as well as financial regulation.
Now in paperback, the Handbook is a comprehensive, interdisciplinary resource placing corporate law and governance in its wider context, and is essential reading for scholars, practitioners, and policymakers in the field.