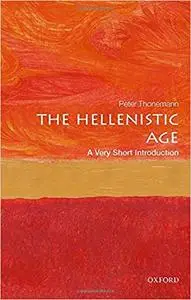 Peter Thonemann, "The Hellenistic Age: A Very Short Introduction "
English | ISBN: 0198746040 | 2018 | 152 pages | PDF | 26 MB
The three centuries which followed the conquests of Alexander are perhaps the most thrilling of all periods of ancient history. This was an age of cultural globalization: in the third century BC, a single language carried you from the Rhone to the Indus. A Celt from the lower Danube could serve in the mercenary army of a Macedonian king ruling in Egypt, and a Greek philosopher from Cyprus could compare the religions of the Brahmins and the Jews on the basis of first-hand knowledge of both. Kings from Sicily to Tajikistan struggled to meet the challenges of ruling multi-ethnic states, and Greek city-states came together under the earliest federal governments known to history. The scientists of Ptolemaic Alexandria measured the circumference of the earth, while pioneering Greek Argonauts explored the Indian Ocean and the Atlantic coast of Africa.
Drawing on inscriptions, papyri, coinage, poetry, art, and archaeology, in this Very Short Introduction Peter Thonemann opens up the history and culture of the vast Hellenistic world, from the death of Alexander the Great (323 BC) to the Roman conquest of the Ptolemaic kingdom (30 BC).
ABOUT THE SERIES: The Very Short Introductions series from Oxford University Press contains hundreds of titles in almost every subject area. These pocket-sized books are the perfect way to get ahead in a new subject quickly. Our expert authors combine facts, analysis, perspective, new ideas, and enthusiasm to make interesting and challenging topics highly readable.