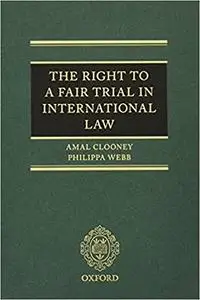 Philippa Webb, "The Right to a Fair Trial in International Law"
English | ISBN: 0198808399 | 2020 | 1056 pages | PDF | 9 MB
The Right to a Fair Trial in International LawÂbrings together the diverse sources of international law that define the right to a fair trial in the context of criminal (as opposed to civil, administrative or other) proceedings. The book provides a comprehensive explanation of what the right
to a fair trial means in practice under international law and focuses on factual scenarios that practitioners and judges may face in court.
Each of the book's fourteen chapters examines a component of the right to a fair trial as defined in Article 14 of the International Covenant on Civil and Political Rights and reviews the case law of regional human rights courts, international criminal courts as well as UN human rights bodies.
Highlighting both consensus and divisions in the international jurisprudence in this area, this book provides an invaluable resource to practitioners and scholars dealing with breaches of one of the most fundamental human rights.
Read more