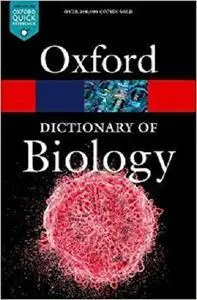 Robert Hine, "A Dictionary of Biology 8th Edition"
English | 2019 | ISBN: 0198821484 | 736 pages | PDF conv | 20 MB
This new eighth edition has been fully revised and updated to reflect recent progress in the fields of biology, biophysics, and biochemistry, with particular expansion to the areas of research design and plant and animal development. Over 120 new entries include "de-extinction", "ecological footprint", "rewilding", and "Zika virus", now totalling over 5,600 authoritative and up-to-date entries.
Numerous appendices include classifications of the animal and plant kingdoms, SI units, Nobel prizewinners, and a new appendix on anatomical terms. With new diagrams and updated web links, this remains the market-leading dictionary for students of biology, both at high school and college level.