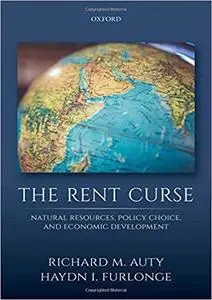 The Rent Curse: Natural Resources, Policy Choice, and Economic Development by Richard M Auty and Haydn I Furlonge
English | 2019 | ISBN: 0198828861 | 288 pages | PDF | 1,3 MB
The resource curse is a variant of a wider rent curse that can also be driven by geopolitical rent, regulatory rent, and labour rent. Total rent can therefore be from one-tenth to two-fifths of GDP and sometimes more. Rent is detached from the activity that generates it and is up for grabs so it feeds contents for its capture and its deployment can radically impact the development trajectory for better or worse, all too often for worse.
The Rent Curse: Natural Resources, Policy Choice, and Economic Development studies two rent driven models to suggest that low rent incentivizes the elite to grow the economy efficiently, whereas high rent encourages rent siphoning for immediate enrichment at the expense of long-term growth. It looks at low rent Mauritius and high rent Trinidad and Tobago to show that low rent stimulates rapid and relatively egalitarian economic growth with incremental democratization, whereas high rent inhibits competitive diversification and frequently causes protracted growth collapses. The post-war prioritization of industry has proved a double edged sword.
The Rent Curse employs rent driven models to explain why low rent East Asia has closed the income gap with advanced economies; why rent rich Latin America may be de-industrializing; why agricultural neglect launched sub-Saharan Africa on a false start to economic development; why South Asia pioneers growth through export services; and why governmenets in the oil-rich Gulf states raised the incomes of nationals without conferring the skills to sustain them.
My nickname -
interes