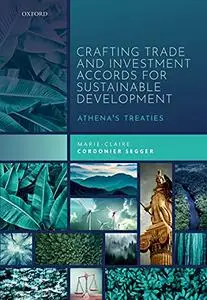 Crafting Trade and Investment Accords for Sustainable Development: Athena's Treaties by Marie-Claire Cordonier Segger
2021 | ISBN: 019883134X | English | 480 pages | PDF | 5 MB
International economic law guides and shapes globalization and the future of the world economy, our human societies, and the Earth. The rules which facilitate trade and investment could defend the interests of Hermes, Greek god of commerce and thieves, or learn to draw inspiration from Athena, goddess of justice, wisdom, and crafts. This volume explores how trade and investment agreements could promote more sustainable development, rather than increasing the negative social and environmental impacts of economic growth. States and other actors are attempting to integrate social and environmental considerations into trade and investment policies, towards more sustainable development. Analysing their efforts, this volume offers insights into the ways that commitments to sustainability are being operationalized in the texts of economic treaties themselves.
Written by a renowned expert jurist and professor of law, this book examines the measures being debated in the WTO and adopted by States in a selection of innovative and flexible regional and bilateral trade and investment accords. With legal examples spanning decades of experimentation and experience, the book illuminates how States and stakeholders are seeking innovative ways to integrate environmental and social considerations into trade and investment agreements. Introducing a ground-breaking systematic approach, the volume considers how, through this integration, international trade and investment law can contribute to the achievement of the world's Sustainable Development Goals.