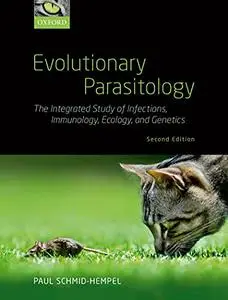 Evolutionary Parasitology: The Integrated Study of Infections, Immunology, Ecology and Genetics, 2nd Edition
by Schmid-Hempel, Paul;
English | 2021 | ISBN: 019883215X | 572 pages | True PDF | 17.64 MB
Parasites and infectious diseases are everywhere and represent some of the most potent forces shaping the natural world. They affect almost every aspect imaginable in the life of their hosts, even as far as the structure of entire ecosystems. Hosts, in turn, have evolved complex defences, with
immune systems being among the most sophisticated processes known in nature. In response, parasites have again found ways to manipulate and exploit their hosts. Ever since life began, hosts and parasites have taken part in this relentless co-evolutionary struggle with far-reaching consequences for
us all.
Today, concepts borrowed from evolution, ecology, parasitology, and immunology have formed a new synthesis for the study of host-parasite interactions. Evolutionary parasitology builds on these established fields of scientific enquiry but also includes some of the most successful inter-disciplinary
areas of modern biology such as evolutionary epidemiology and ecological immunology. The first edition of this innovative text quickly became the standard reference text for this new discipline. Since then, the field has progressed rapidly and an update is now required. This new edition has been
thoroughly revised to provide a state-of-the-art overview, from the molecular bases to adaptive strategies and their ecological and evolutionary consequences. It includes completely new material on topics such as microbiota, evolutionary genomics, phylodynamics, within-host evolution, epidemiology,
disease spaces, and emergent diseases.
Evolutionary Parasitology is suitable for advanced undergraduates, graduate level students, and interdisciplinary researchers from a variety of fields including immunology, genetics, sexual selection, population ecology, behavioural ecology, epidemiology, and evolutionary biology. Those studying and
working in adjacent fields such as conservation biology, virology, medicine, and public health will also find it an invaluable resource for connecting to the bases of their science.