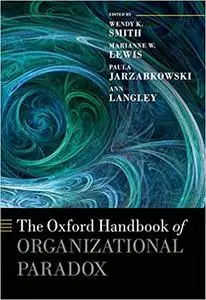 Wendy K. Smith, Marianne W. Lewis, Paula Jarzabkowski, "The Oxford Handbook of Organizational Paradox"
English | 2019 | pages: 751 | ISBN: 0198840187, 0198754426 | PDF | 4,1 mb
The notion of paradox dates back to ancient philosophy, yet only recently have scholars started to explore this idea in organizational phenomena. Two decades ago, a handful of provocative theorists urged researchers to take seriously the study of paradox, and thereby deepen our understanding
of plurality, tensions, and contradictions in organizational life.
Studies of organizational paradox have grown exponentially over the past two decades, canvassing varied phenomena, methods, and levels of analysis. These studies have explored such tensions as today and tomorrow, global integration and local distinctions, collaboration and competition, self and
others, mission and markets. Yet even with both the depth and breadth of interest in organizational paradoxes, key issues around definitions and application remain. This Handbook seeks to aid, engage, and fuel the expanding interest in organizational paradox. Contributions to this volume depict how
paradox studies inform, and are informed, by other theoretical perspectives, while creating a resource that enables scholars to learn about and apply this lens across varied organizational phenomena. The increasing complexity, volatility, and ambiguity in our world continually surfaces paradoxical
dynamics. Thus, this Handbook offers insights to scholars across organizational theory.
My Link