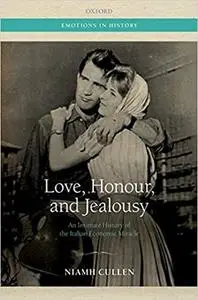 Niamh Cullen, "Love, Honour, and Jealousy: An Intimate History of the Italian Economic Miracle "
English | ISBN: 0198840373 | 2019 | 240 pages | PDF | 51 MB
Love, Honour, and Jealousy investigates the impact of the Italian economic miracle of the 1950s and 1960s on intimate life. Just as Italy was rapidly forged into an urban, industrial nation in these years, the ways in which Italians thought about family, love, and marriage were transformed by
migration and modern consumer culture. At the core of this book lies the investigation of almost one hundred and fifty unpublished diaries and memoirs written by ordinary men and women who were coming of age during these years. These personal testimonies reveal unique insights into the experiences,
thoughts, and feelings of those who came of age against the backdrop of a rapidly changing Italy. The personal stories are explored alongside the films, magazines, and music of the time, which were saturated with both new and old ideas of romance. Films and magazines encouraged young Italians to put
romantic love and individual desire over family, contributing to changing expectations about marriage, and often resulting in family tensions. At the same time popular love stories were frequently laced with jealousy, hinting at the darker emotions that were linked in many minds, to love. This
darker side was a significant part of the story of changing ideas about intimacy in post-war Italy, as was the growing desire to marry for love. Control and violence against women was closely linked to southern ideas about family honour but also to anxieties about Italy's changing society, which
manifested itself in romantic jealousy. Through its exploration of courtship, marriage, honour crime, forced marriage, jealousy, and marriage breakdown, traces the ways in which the lives both of individuals and of the nation itself, were shaped by changing understandings
of romantic love and its darker companions, honour and jealousy.
Read more