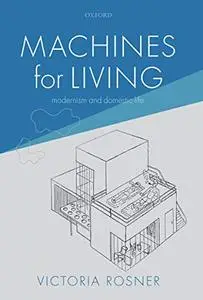 Machines for Living: Modernism and Domestic Life by Victoria Rosner
2020 | ISBN: 0198845197 | English | 320 pages | EPUB | 7 MB
Changes in the routines of domestic life were among the most striking social phenomena of the period between the two World Wars, when the home came into focus as a problem to be solved: re-imagined, streamlined, electrified, and generally cleaned up. Modernist writers understood themselves to be living in an epochal moment when the design and meaning of home life were reconceived. Moving among literature, architecture, design, science, and technology, Machines for Living shows how the modernization of the home led to profound changes in domestic life and relied on a set of emergent concepts, including standardization, scientific method, functionalism, efficiency science, and others, that form the basis of literary modernism and stand at the confluence of modernism and modernity.
Even as modernist writers criticized the expanding reach of modernization into the home, they drew on its conceptual vocabulary to develop both the thematic and formal commitments of literary modernism. Rosner's work develops a new methodology for interdisciplinary modernist studies and shows how the reinvention of domestic life is central to modernist literature.