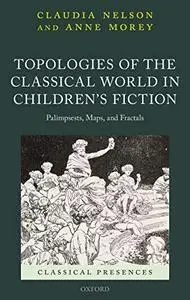 Topologies of the Classical World in Children's Fiction: Palimpsests, Maps, and Fractals (Classical Presences) by Claudia Nelson, Anne Morey
2019 | ISBN: 0198846037 | English | 288 pages | PDF | 3 MB
Beginning with Rudyard Kipling and Edith Nesbit and concluding with best-selling series still ongoing at the time of writing, this volume examines works of twentieth- and twenty-first-century children's literature that incorporate character types, settings, and narratives derived from the Greco-Roman past. Drawing on a cognitive poetics approach to reception studies, it argues that authors typically employ a limited and powerful set of spatial metaphors - palimpsest, map, and fractal - to organize the classical past for preteen and adolescent readers. Palimpsest texts see the past as a collection of strata in which each new era forms a layer superimposed upon a foundation laid earlier; map texts use the metaphor of the mappable journey to represent a protagonist's process of maturing while gaining knowledge of the self and/or the world; fractal texts, in which small parts of the narrative are thematically identical to the whole, present the past in a way that implies that history is infinitely repeatable. While a given text may embrace multiple metaphors in presenting the past, associations between dominant metaphors, genre, and outlook emerge from the case studies examined in each chapter, revealing remarkable thematic continuities in how the past is represented and how agency is attributed to protagonists: each model, it is suggested, uses the classical past to urge and thus perhaps to develop a particular approach to life.