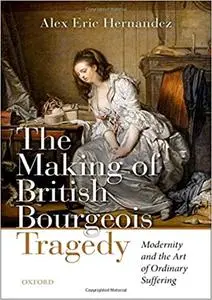 Alex Eric Hernandez, "The Making of British Bourgeois Tragedy"
English | ISBN: 0198846576 | 2019 | 288 pages | PDF | 3 MB
The 'rise of the middle class' in the eighteenth century has long been taken to usher in a prosaic age synonymous with the death of tragedy, an age in which the sheer ordinariness of bourgeois life was both antithetical and inured to the tragic. But the period's literature tells a very different story. Re-assembling a body of print and performance concerned with the misfortunes of the middling sort, The Making of British Bourgeois Tragedy argues that these works imagined a particularly modern sort of affliction, an 'ordinary suffering' proper to ordinary life, divested of the sorts of meanings, rhetorics, and affective resonances once deployed to understand it.
Whereas neoclassical aesthetics aligned tragedy with the heroic and the admirable, this 'bourgeois and domestic tragedy' treated the pain of common people with dignity and seriousness, meditating upon a suffering that was homely, familiar, entangled in the nascent values of capitalism, yet no less haunted by God. Hence, where many have seen aesthetic stagnation, misfiring emotion, and the absence of an idealized tragicness in the genre, this volume sees instead a sustained engagement in the emotional processes and representational techniques through which the middle rank feels its way into modernity. By attending closely to this long neglected subject, The Making of British Bourgeois Tragedy turns the critical account of eighteenth-century tragedy on its head. It reads the genre's emergence in the period as a vigorous cultural conversation on whose life–and whose way of life–is grievable, as well as how mourning might be performed