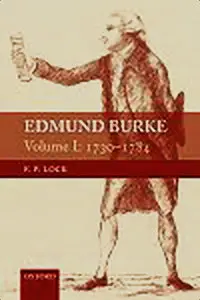 Edmund Burke, Volume I: 1730-1784
Publisher: Oxford University Press, USA | ISBN: 0199226636 | edition 2008 | PDF | 616 pages | 10,1 mb
Edmund Burke (1730-1797) was one of the most profound, versatile, and accomplished thinkers of the eighteenth century. Born and educated in Dublin, he moved to London to study law, but remained to make a career in English politics, completing A Philosophical Enquiry into the Origin of Our Ideas of the Sublime and Beautiful (1757) before entering the political arena. A Member of Parliament for nearly thirty years, his speeches are still read and studied as classics of political thought, and through his best-known work, Reflections on the Revolution in France (1790) he has continued to exercise a posthumous influence as "the father of conservatism."
In this, the first of two volumes, F.P. Lock covers the years between 1730-1784, and describes Burke's Irish upbringing and education, early writing, and his parliamentary career throughout the momentous years of the American War of Independence. Lavishly illustrated, the book provides an authoritative account of the complexity and breadth of Burke's philosophical and political writing and examines its origins in his personal experiences and the political world of his day.