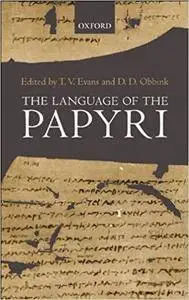 T. V. Evans, D. D. Obbink, "The Language of the Papyri"
2010 | pages: 383 | ISBN: 0199237085 | PDF | 3,3 mb
The modern rediscovery of the Greek and Latin papyri from Egypt has transformed our knowledge of the ancient world. We cannot, however, make the same claim in the specific area of language study. Although important studies of the language of the papyri have appeared sporadically over the past century, we are still dealing today with a linguistic resource of extraordinary richness which has hardly begun to be explored. Every scrap of papyrus and every ostracon (potsherd) or tablet unearthed has the potential to change some aspect of the way we think about the Greek and Latin languages. This book demonstrate that potential, by gathering together essays from seventeen scholars who present a variety of perspectives and methodological approaches. The Language of the Papyri charts current directions of international research, and will also provide a stimulus for future work.
My Link