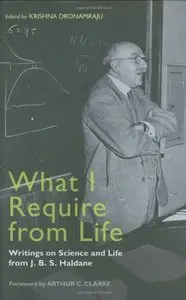 What I Require From Life: Writings on Science and Life From J.B.S. Haldane by Krishna Dronamraju
English | 2009 | ISBN: 0199237700 | 256 pages | PDF | 0,9 MB
J. B. S. Haldane (1892-64) was one of the great scientists–and great science writers–of the 20th century. A polymath who was a central figure in the development of modern evolutionary biology, he was also a highly skilled essayist and an extraordinary character–brilliant, witty, idealistic, funny, and pugnacious.
What I Require From Life brings together Haldane's popular science essays, more than sixty articles that reflect not only his masterful ability to communicate scientific understanding, but also his deep commitment to socialism. Readers will find essays on an exhilarating range of topics–"Is There Life on the Planets?" "Is Man a Machine?" "Why are You Left-handed?" "Overcrowding at the Zoo," "How Bees Communicate," "The Common Cold."
Edited with an introduction by Haldane's last graduate pupil, Krishna Dronamraju, this collection of thought-provoking and beautifully-written pieces also comes with a Preface written by the late Sir Arthur C. Clarke, who calls Haldane "perhaps the most brilliant science popularizer of his generation."
My nickname -
interes