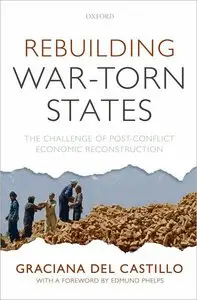 Graciana del Castillo "Rebuilding War-Torn States: The Challenge of Post-Conflict Economic Reconstruction"
Oxford University Press | 2008-11-15 | ISBN: 0199237735 | 304 pages | PDF | 1,8 MB
Post-conflict economic reconstruction is a critical part of the political economy of peacetime and one of the most important challenges in any peace-building or state-building strategy. After wars end, countries must negotiate a multi-pronged transition to peace: Violence must give way to public security; lawlessness, political exclusion, and violation of human rights must give way to the rule of law and participatory government; ethnic, religious, ideological, or class/caste confrontation must give way to national reconciliation; and ravaged and mismanaged war economies must be reconstructed and transformed into functioning market economies that enable people to earn a decent living.
Yet, how can these vitally important tasks each be successfully managed? How should we go about rehabilitating basic services and physical and human infrastructure? Which policies and institutions are necessary to reactivate the economy in the short run and ensure sustainable development in the long run? What steps should countries take to bring about national reconciliation and the consolidation of peace? In all of these cases, unless the political objectives of peacetime prevail at all times, peace will be ephemeral, while policies that pursue purely economic objectives can have tragic consequences. This book argues that any strategy for post-conflict economic reconstruction must be based on five premises and examines specific post-conflict reconstruction experiences to identify not only where these premises have been disregarded, but also where policies have worked, and the specific conditions that have influenced their success and failure.
Download: