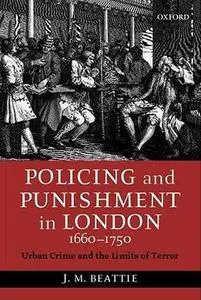 Policing and Punishment in London, 1660-1750: Urban Crime and the Limits of Terror by J. M. Beattie (Author)
Oxford University Press, USA; New Ed edition (January 20, 2003) | ISBN-10: 019925723X | PDF | 4,5 Mb | 520 pages
This study examines the considerable changes that took place in the criminal justice system in the City of London in the century after the Restoration, well before the inauguration of the so-called 'age of reform'. The policing institutions of the City were transformed in response to the problems created by the rapid expansion of the metropolis during the early modern period, and as a consequence of the emergence of a polite urban culture. At the same time, the City authorities were instrumental in the establishment of new forms of punishment - particularly transportation to the American colonies and confinement at hard labour - that for the first time made secondary sanctions available to the English courts for convicted felons and diminished the reliance on the terror created by capital punishment. The book investigates why in the century after 1660 the elements of an alternative means of dealing with crime in urban society were emerging in policing, in the practices and procedures of prosecution, and in the establishment of new forms of punishment.
No mirror!