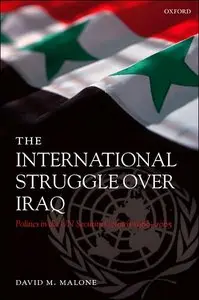 David M. Malone "The International Struggle over Iraq: Politics in the UN Security Council 1980-2005"
Oxford University Press | 2006-08-04 | ISBN: 0199278571 | 424 pages | PDF | 1,4 MB
Iraq has dominated international headlines in recent years, but its controversial role in international affairs goes back much further. The key arena for these power politics over Iraq has been the United Nations Security Council. Spanning the last quarter century, The International Struggle over Iraq examines the impact the United Nations Security Council has had on Iraq—and Iraq's impact on the Security Council.
The story is a fascinating one. Beginning in 1980, in the crucible of the Iran-Iraq War, the Council found a common voice as a peacemaker after the divisions of the cold war. That peacemaking role was cemented when a UN-mandated force expelled Iraqi forces from Kuwait in 1991, offering a glimpse of a new role for the UN in the 'New World Order'. But unilateralism soon set in, as the Security Council struggled under the weight and bureaucratic demands of its changing identity. The Security Council gradually abandoned its traditional political and military tools for the legal-regulatory approach, but was unable to bridge the gap between those who believed allegations of Iraqi possession of weapons of mass destruction and those who didn't. Growing paralysis led eventually to deadlock in the Council in 2002, with the result that it was sidelined during the 2003 Coalition invasion. This relegation, when combined with the loss of some of its best and brightest in a massive truck bomb in Iraq later that year, precipitated a deep crisis of confidence. The future role of the UN Security Council has now, once again, become uncertain.
Drawing on the author's unparalleled access to UN insiders, this volume offers radical new insights into one of the most persistentcrises in international affairs, and the different roles the world's central peace-making forum has played in it.
Download FREE:
No Mirror(s) Please!