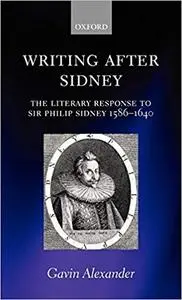 Gavin Alexander, "Writing after Sidney: The Literary Response to Sir Philip Sidney 1586-1640"
ISBN: 0199285470, 0199591121 | 2007 | EPUB | 424 pages | 17 MB
Writing After Sidney examines the literary response to Sir Philip Sidney (1554-86), author of the Arcadia, Astrophil and Stella, and The Defence of Poesy, and the most immediately influential writer of the Elizabethan period. It does so by looking closely both at Sidney and at four writers who had an important stake in his afterlife: his sister Mary Sidney, his brother Robert Sidney, his best friend Fulke Greville, and his niece Mary Wroth. At the same time as these authors wrote their own works in response to Sidney they presented his life and writings to the world, and were shaped by other writers as his literary and political heirs. Readings of these five central authors are embedded in a more general study of the literary and cultural scene in the years after Sidney's death, examining the work of such writers as Spenser, Jonson, Daniel, Drayton, and Herbert. The study uses a wide range of manuscript and printed sources, and key use is made of perspectives from Renaissance literary theory, especially Renaissance rhetoric. The book aims to come to a better understanding of the nature of Sidney's impact on the literature of the fifty or so years after his death in 1586; it also aims to improve our understanding both of Sidney and of the other writers discussed by developing a more nuanced approach to the questions of imitation and example so central to Renaissance literature. It thereby adds to the general store of our understanding of how writing of the English Renaissance offered examples to later readers and writers, and of how it encountered and responded to such examples itself.