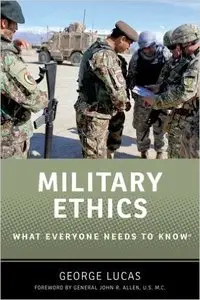 George Lucas, "Military Ethics: What Everyone Needs to Know"
2016 | ISBN-10: 0199336881, 019933689X | 280 pages | PDF | 2 MB
What significance does "ethics" have for the men and women serving in the military forces of nations around the world? What core values and moral principles collectively guide the members of this "military profession?"
This book explains these essential moral foundations, along with "just war theory," international relations, and international law. The ethical foundations that define the "Profession of Arms" have developed over millennia from the shared moral values, unique role responsibilities, and occasional reflection by individual members the profession on their own practices - eventually coming to serve as the basis for the "Law of Armed Conflict" itself.
This book focuses upon the ordinary men and women around the world who wear a military uniform and are committed to the defense of their countries and their fellow citizens. It is about what they do, how they do it, what they think about it, how they behave when carrying out their activities, and how they are expected to behave, both on and off the battlefield (whether in, or out of, uniform) - and what everyone (and not just military personnel themselves) needs to know about this.
The book also examines how military personnel are treated and regarded by those whom they have sworn to defend and protect, as well as how they treat and regard one another within their respective services and organizational settings. Finally, the book discusses the transformations in military professionalism occasioned by new developments in armed conflict, ranging counterinsurgency warfare and humanitarian military intervention, to cyber conflict, military robotics, and private military contracting. From China to Russia, author George Lucas effectively sheds light on today's military ethics in existence throughout the world.