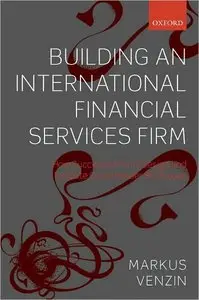 Markus Venzin "Building an International Financial Services Firm: How Successful Firms Design and Execute Cross-Border Strategies in an Uneven World"
Oxford University Press | English | 2009-03-25 | ISBN: 0199535205 | 240 pages | PDF | 1,3 MB
A new era of global banking and insurance is emerging, with leading banks eager to serve international markets. This book explores the issues that arise for banks in their strategic choices as they move into these new international markets.
Building an International Financial Services Firm challenges conventional assumptions from the international management literature on topics such as the limits of globalization, the importance of cultural and institutional distance, the nature of economies of scale and scope, the existence of first mover advantages, the logic behind the global value chain configuration, the speed and timing of market entry, as well as organizational architecture. It focuses on fundamental strategic decisions such as when, where, and how to enter foreign markets and how to design the organizational architecture of the multinational financial services firm.
Using simple theoretical frameworks illustrated by case examples, this book provides a thorough guide to the challenges of the international market for financial services firms, both for those working in the financial services industry, and researchers studying the area.
To start download click HERE: