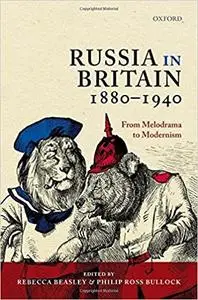 Rebecca R. Beasley, "Russia in Britain, 1880 to 1940: From Melodrama to Modernism"
English | ISBN: 0199660867 | 2013 | 336 pages | PDF | 3 MB
Russia in Britain offers the first comprehensive account of the breadth and depth of the British fascination with Russian and Soviet culture, tracing its transformative effect on British intellectual life from the 1880s, the decade which saw the first sustained interest in Russian literature,
to 1940, the eve of the Soviet Union's entry into the Second World War. By focusing on the role played by institutions, disciplines and groups, libraries, periodicals, government agencies, concert halls, publishing houses, theatres, and film societies, this collection marks an important departure
from standard literary critical narratives, which have tended to highlight the role of a small number of individuals, notably Sergei Diaghilev, Constance Garnett, Theodore Komisarjevsky, Katherine Mansfield, George Bernard Shaw and Virginia Woolf. Drawing on recent research and newly available
archives, Russia in Britain shifts attention from individual figures to the networks within which they operated, and uncovers the variety of forces that enabled and structured the British engagement with Russian culture. The resulting narrative maps an intricate pattern of interdisciplinary
relations and provides the foundational research for a new understanding of Anglo-Russian/Soviet interaction. In this, it makes a major contribution to the current debates about transnationalism, cosmopolitanism and 'global modernisms' that are reshaping our knowledge of nineteenth- and early
twentieth-century British culture.