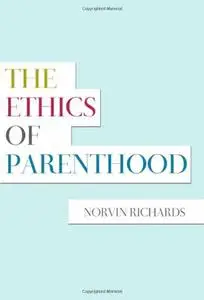 The Ethics of Parenthood by Norvin Richards
English | ISBN: 0199731748 | 2010 | PDF | 304 pages | 10,5 MB
In The Ethics of Parenthood Norvin Richards explores the moral relationship between parents and children from slightly before the cradle to slightly before the grave. Richards maintains that biological parents do ordinarily have a right to raise their children, not as a property right but as an instance of our general right to continue whatever we have begun. The contention is that creating a child is a first act of parenthood, hence it ordinarily carries a right to continue as parent to that child. Implications are drawn for a wide range of cases, including those of Baby Jessica and Baby Richard, prenatal abandonment, babies switched at birth and sent home with the wrong parents, and families separated by war or natural disaster.
A second contention is that children have a claim of their own to have their autonomy respected, and that this claim is stronger the better the grounds for believing that what the child's actions express is a self of the child's own. A final set of chapters concern parents and their grown children. Views are offered about what duties parents have at this stage of life, about what is required in order to treat grown children as adults, and about what obligations grown children have to their parents.
In the final chapter Richards discusses the contention that parents sometimes have an obligation to die rather than permit their children to make the sacrifices needed to keep them alive, arguing that a leading view about this undervalues both love and autonomy.
My nickname -
interes