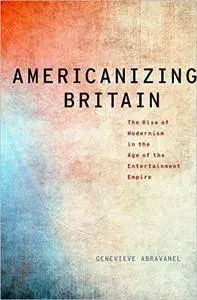 Americanizing Britain: The Rise of Modernism in the Age of the Entertainment Empire by Genevieve Abravanel
English | April 6, 2012 | ISBN: 0199754454, 0190272414 | PDF | 224 pages | 1.9 MB
How did Great Britain, which entered the twentieth century as a dominant empire, reinvent itself in reaction to its fears and fantasies about the United States? Investigating the anxieties caused by the invasion of American culture-from jazz to Ford motorcars to Hollywood films-during the first half of the twentieth century, Genevieve Abravanel theorizes the rise of the American Entertainment Empire as a new style of imperialism that threatened Britain's own.
In the early twentieth century, the United States excited a range of utopian and dystopian energies in Britain. Authors who might ordinarily seem to have little in common-H.G. Wells, Aldous Huxley, and Virginia Woolf-began to imagine Britain's future through America. Abravanel explores how these novelists fashioned transatlantic fictions as a response to the encroaching presence of Uncle Sam. She then turns her attention to the arrival of jazz after World War I, showing how a range of writers, from Elizabeth Bowen to W.H. Auden, deployed the new music as a metaphor for the modernization of England. The global phenomenon of Hollywood film proved even more menacing than the jazz craze, prompting nostalgia for English folk culture and a lament for Britain's literary heritage. Abravanel then refracts British debates about America through the writing of two key cultural critics: F.R. Leavis and T.S. Eliot. In so doing, she demonstrates the interdependencies of some of the most cherished categories of literary study-language, nation, and artistic value-by situating the high-low debates within a transatlantic framework.