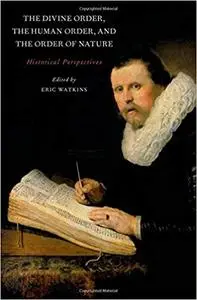 Eric Watkins, "The Divine Order, the Human Order, and the Order of Nature: Historical Perspectives"
English | ISBN: 0199934401 | 2013 | 272 pages | PDF | 1113 KB
This volume contains ten new essays focused on the exploration and articulation of a narrative that considers the notion of order within medieval and modern philosophy–its various kinds (natural, moral, divine, and human), the different ways in which each is conceived, and the diverse dependency relations that are thought to obtain among them.
Descartes, with the help of others, brought about an important shift in what was understood by the order of nature by placing laws of nature at the foundation of his natural philosophy. Vigorous debate then ensued about the proper formulation of the laws of nature and the moral law, about whether such laws can be justified, and if so, how-through some aspect of the divine order or through human beings-and about what consequences these laws have for human beings and the moral and divine orders. That is, philosophers of the period were thinking through what the order of nature consists in and how to understand its relations to the divine, human, and moral orders. No two major philosophers in the modern period took exactly the same stance on these issues, but these issues are clearly central to their thought. The Divine Order, the Human Order, and the Order of Nature is devoted to investigating their positions from a vantage point that has the potential to combine metaphysical, epistemological, scientific, and moral considerations into a single narrative.