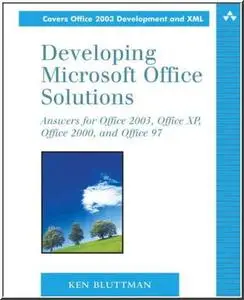 Developing Microsoft Office Solutions: Answers for Office 2003, Office XP, Office 2000, and Office 97 by Ken Bluttman
Publisher: Addison-Wesley Professional (December 19, 2003) | ISBN-10: 0201738058 | CHM | 9,4 Mb | 608 pages
Build custom Microsoft Office solutions that solve real business problems–fast!
Now, there's a practical, easy-to-use guide for every developer and power user who wants to solve real business problems with custom Microsoft Office applications.
Packed with case studies and code examples, this book covers all of Office, not just one application. Ken Bluttman shares more than a decade's experience as an Office developer, demonstrating how to program every recent version, from Office 2003 back to Office 97. Working with Office 2003? You'll discover exactly how to make the most of its breakthrough XML support–along with improved Smart Tags, task panes, and more!
Everything you need to know to develop custom Office applications:
— Covers Word, Excel, Access, PowerPoint, Outlook, and InfoPath — Clearly explains the Microsoft Office object model — Shows how to integrate multiple Office applications into a complete solution — Includes a full chapter on making the most of Office 2003 Smart Tags
Includes five chapter-length case studies!
— Custom mail merge applications with Access and Word — Dynamic data delivery via PowerPoint and Excel — Generating "on-the-fly" Excel charts from imported XML data — Using Word to repurpose raw XML data into useful content — Using InfoPath to overcome key XML processing limitations
0201738058B10072003
Download from Ftp2Share