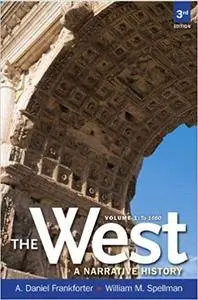 The West: A Narrative History, Volume One: To 1660
by A. Daniel Frankforter
English | 2013 | ISBN: 0205180930 | 497 Pages | PDF | 32 MB
The West: A Narrative History is a concise but not abridged introduction to the West, encompassing all cultures that trace their ancestry to the ancient Mediterranean world. It is not a reduced version of a larger study, but a full narrative of the West written concisely.
This learning program is built around a Key Question in every chapter, a feature that shows students why western civilization is relevant for them. Students will discover the key questions that define the past are in many ways the same key questions of today. Since students often see conflict between a Christian "West" and an Islamic "East" in today's society, the authors highlight the ongoing role the Middle East has played in shaping the West. Students will understand the links between people of the West and those in other regions.