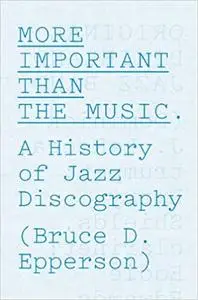 Bruce D. Epperson, "More Important Than the Music: A History of Jazz Discography"
English | ISBN: 022606753X | 2013 | 304 pages | PDF | 2 MB
Today, jazz is considered high art, America's national music, and the catalog of its recordings—its discography—is often taken for granted. But behind jazz discography is a fraught and highly colorful history of research, fanaticism, and the intense desire to know who played what, where, and when. This history gets its first full-length treatment in Bruce D. Epperson's More Important Than the Music. Following the dedicated few who sought to keep jazz's legacy organized, Epperson tells a fascinating story of archival pursuit in the face of negligence and deception, a tale that saw curses and threats regularly employed, with fisticuffs and lawsuits only slightly rarer.
Read more