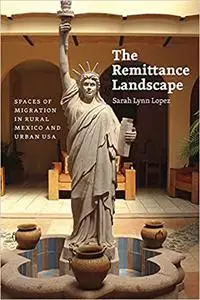 Sarah Lynn Lopez, "The Remittance Landscape: Spaces of Migration in Rural Mexico and Urban USA"
English | ISBN: 022610513X | 2015 | 336 pages | EPUB, PDF | 12 MB + 3 MB
Immigrants in the United States send more than $20 billion every year back to Mexico―one of the largest flows of such remittances in the world. With The Remittance Landscape, Sarah Lynn Lopez offers the first extended look at what is done with that money, and in particular how the building boom that it has generated has changed Mexican towns and villages.
Lopez not only identifies a clear correspondence between the flow of remittances and the recent building boom in rural Mexico but also proposes that this construction boom itself motivates migration and changes social and cultural life for migrants and their families. At the same time, migrants are changing the landscapes of cities in the United States: for example, Chicago and Los Angeles are home to buildings explicitly created as headquarters for Mexican workers from several Mexican states such as Jalisco, Michoacán, and Zacatecas. Through careful ethnographic and architectural analysis, and fieldwork on both sides of the border, Lopez brings migrant hometowns to life and positions them within the larger debates about immigration.
Read more