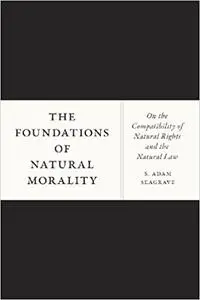 S. Adam Seagrave, "The Foundations of Natural Morality: On the Compatibility of Natural Rights and the Natural Law"
English | 2016 | ISBN: 022638067X | PDF | pages: 185 | 0.7 mb
Recent years have seen a renaissance of interest in the relationship between natural law and natural rights. During this time, the concept of natural rights has served as a conceptual lightning rod, either strengthening or severing the bond between traditional natural law and contemporary human rights. Does the concept of natural rights have the natural law as its foundation or are the two ideas, as Leo Strauss argued, profoundly incompatible?
With The Foundations of Natural Morality, S. Adam Seagrave addresses this controversy, offering an entirely new account of natural morality that compellingly unites the concepts of natural law and natural rights. Seagrave agrees with Strauss that the idea of natural rights is distinctly modern and does not derive from traditional natural law. Despite their historical distinctness, however, he argues that the two ideas are profoundly compatible and that the thought of John Locke and Thomas Aquinas provides the key to reconciling the two sides of this long-standing debate. In doing so, he lays out a coherent concept of natural morality that brings together thinkers from Plato and Aristotle to Hobbes and Locke, revealing the insights contained within these disparate accounts as well as their incompleteness when considered in isolation. Finally, he turns to an examination of contemporary issues, including health care, same-sex marriage, and the death penalty, showing how this new account of morality can open up a more fruitful debate.