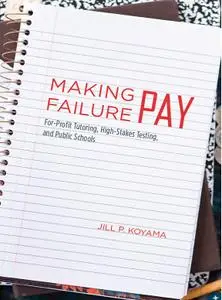 Making Failure Pay: For-Profit Tutoring, High-Stakes Testing, and Public Schools by Jill P. Koyama
English | 2010 | ISBN: 0226451747, 0226451739 | 192 pages | PDF | 1 MB
A little-discussed aspect of the No Child Left Behind Act (NCLB) is a mandate that requires failing schools to hire after-school tutoring companies—the largest of which are private, for-profit corporations—and to pay them with federal funds. Making Failure Pay takes a hard look at the implications of this new blurring of the boundaries between government, schools, and commerce in New York City, the country's largest school district.
As Jill P. Koyama explains in this revelatory book, NCLB—a federally legislated, state-regulated, district-administered, and school-applied policy—explicitly legitimizes giving private organizations significant roles in public education. Based on her three years of ethnographic fieldwork, Koyama finds that the results are political, problematic, and highly profitable. Bringing to light these unproven, unregulated private companies' almost invisible partnership with the government, Making Failure Pay lays bare the unintended consequences of federal efforts to eliminate school failure—not the least of which is more failure.