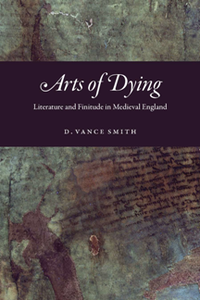 Arts of Dying : Literature and Finitude in Medieval England
by D. Vance Smith
English | 2020 | ISBN: 022664099X | 310 Pages | True PDF | 4.6 MB
People in the Middle Ages had chantry chapels, mortuary rolls, the daily observance of the Office of the Dead, and even purgatory—but they were still unable to talk about death. Their inability wasn't due to religion, but philosophy: saying someone is dead is nonsense, as the person no longer is. The one thing that can talk about something that is not, as D. Vance Smith shows in this innovative, provocative book, is literature.
Covering the emergence of English literature from the Old English to the late medieval periods, Arts of Dying argues that the problem of how to designate death produced a long tradition of literature about dying, which continues in the work of Heidegger, Blanchot, and Gillian Rose. Philosophy's attempt to designate death's impossibility is part of a literature that imagines a relationship with death, a literature that intensively and self-reflexively supposes that its very terms might solve the problem of the termination of life. A lyrical and elegiac exploration that combines medieval work on the philosophy of language with contemporary theorizing on death and dying, Arts of Dying is an important contribution to medieval studies, literary criticism, phenomenology, and continental philosophy.
If you want to support my blog, then you can buy a premium account through any of my files (i.e. on the download page of my book). In this case, I get a percent of sale and can continue to delight you with new books!