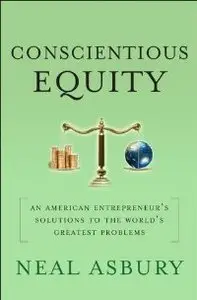 Neal Asbury, "Conscientious Equity: An American Entrepreneur's Solutions to the World's Greatest Problems"
Ma illan | 2010 | ISBN: 023010892X | PDF | 240 pages | 2 MB
In his first book, Asbury, a self-described dreamer, outlines his biggest dream: as a palliative to the trade imbalances between the U.S. and its trading partners, a system by which both trade parties are served equally, and the environmental impact, labor protection, and mutual economic benefits are all addressed. Arguing that the U.S. would be better served by instituting these accords country-by-country rather than at the behest of the WTO, Asbury makes a compelling case for a comprehensive restructuring of our national trade policy. It's an awful big ask, as Asbury himself admits, that would require immense political courage and extremely unlikely bipartisan consensus. Asbury is at his most engaging when recounting his stories as an entrepreneur in Southeast Asia and the Arabian Peninsula, and he clearly cares deeply about poverty and corruption (and the link between them), but he falls short by advocating his proposal as a one-size-fits-all solution, placing too much faith in the notion that it could democratize even the most despotic of governments. Ultimately he admits that "even Conscientious Equity will not quickly overcome long- and fast-held beliefs," but his failure to address such massive challenges undercuts his optimism.
Download