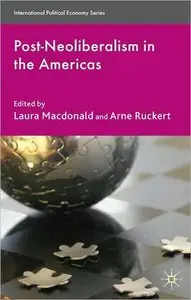 Laura MacDonald, Arne Ruckert "Post-Neoliberalism in the Americas (International Political Economy)"
Palgrave Macmillan | English | 2009-02-15 | ISBN: 0230202071 | 272 pages | PDF | 1,1 MB
Product Description Dramatic changes have occurred in recent years in countries throughout the Americas. Neoliberal policy prescriptions promoted by international financial agencies have failed to deliver significant growth, and have led to rising levels of poverty and inequality. This collection brings together a diverse range of analyses to interrogate these changes occurring in the Americas, from Canada to Venezuela to Chile. Authors debate the reasons for the election of a large number of New Left governments in Latin America, and discuss the significance of the policies they have adopted. Do these policies represent a radical shift in direction towards a post-neoliberal era, or only a kinder and gentler form of neoliberalism? How do New Left governments differ from each other? At the same time, some governments in the Americas, particularly in North America, continue to cling to neoliberal policy prescriptions despite their problems. However, authors in this collection argue that transformations have occurred even in these neo-liberal holdouts. The book offers an essential overview of recent changes in the hemisphere, highlighting both the continuities and discontinuities in neoliberal practice.
To start download click HERE: