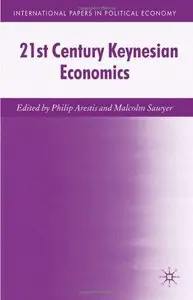 Philip Arestis, Malcolm Sawyer, "21st Century Keynesian Economics"
P ave | 2010 | ISBN: 0230236014 | 256 pages | PDF | 1,4 MB
The International Papers in Political Economy (IPPE) series explores the latest developments in political economy. This sixth volume focuses on the theme of the need for and the development of Keynesian economic policies for the 21st century. The volume deals with financial systems and economic development and asks whether we are all Keynesians now. Keynesian growth theory in the 21st century along with economic policies thought to emerge from the theoretical framework that underpins it – always a Keynesian one but adapted to the realities of the 21st century – are also examined. Essays in this volume also explore the nature and consequences of financialisation as perceived by Keynesians, the conceptualisation of money and the implications for economic policy of the current financial crisis, and the role of banks and the case for public banks.
This book offers detailed analysis and informed comment on the type of economic policies that are relevant for the 21st century in the aftermath of the financial crisis and global recession. It is essential reading for all postgraduates and scholars looking for expert discussion and debate of the issues surrounding economic policy issues.
Download