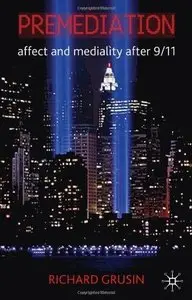 Richard Grusin, "Premediation: Affect and Mediality After 9/11"
P,…ve M/lan | ISBN: 0230242529 | 2010 | PDF | 209 pages | 1,07 mb
In an era of heightened securitization, print, televisual and networked media have become obsessed with the pre-mediation of future events. In response to the shock of 9/11, socially networked US and global media work to premediate collective affects of anticipation and connectivity, while also perpetuating low levels of apprehension or fear.
Note 1
: If you can not open the downloaded file, and your Adobe Reader reports on the damaged file, then
update
your Adobe Reader. Lastest version of Adobe Reader opens this book perfectly.
Note 2
: Links not work? Send me
PM
and I'll try to help you.